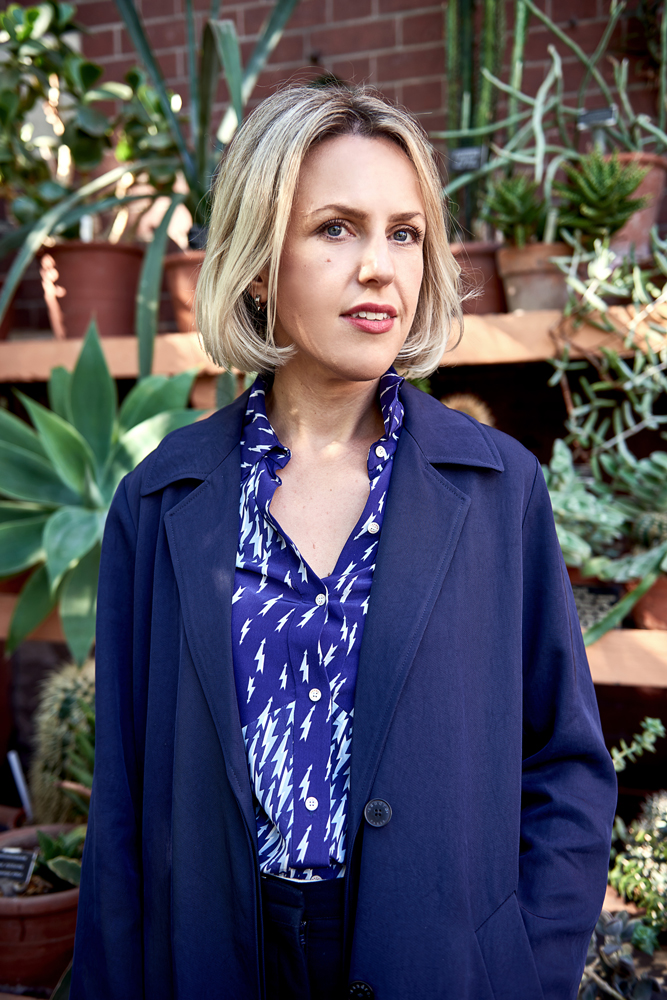 Photograph: Nathalie Théry.
Dr Alexandra Daisy Ginsberg is a multidisciplinary artist exploring the human values that shape design, science, technology, and nature. Through artworks, writing, and curatorial projects, Daisy examines why we make things, what those things are, and their relationship with us and the world.
Daisy has spent over ten years researching synthetic biology and the design of living matter, pushing the boundaries of design and science with scientists, engineers, artists, designers, historians, social scientists, and museums around the world. Daisy is lead author of Synthetic Aesthetics: Investigating Synthetic Biology's Designs on Nature (MIT Press, 2014), and in 2017 completed Better, her PhD by practice at London's Royal College of Art, interrogating how powerful dreams of "better" futures shape the things that get designed (supervised by Professors Sarah Teasley and Anthony Dunne). Daisy received the World Technology Award for design in 2011, and the London Design Medal for Emerging Talent in 2012. Her work has twice been nominated for Designs of the Year (2011, 2015), with Designing for the Sixth Extinction described as "romantic, dangerous… and everything else that inspires us to change and question the world". Daisy exhibits internationally, including at MoMA New York, the Museum of Contemporary Art, Tokyo, the National Museum of China, the Centre Pompidou, and her work is in museum and private collections. Talks include TEDGlobal, PopTech, Design Indaba, and the New Yorker Tech Fest. Daisy is a resident at Somerset House Studios, London. Her new projects focus on ecology and technology, including wilding the planet Mars, and resurrecting the smell of flowers made extinct by humans, in search of the sublime.
EDUCATION
PhD (RCA) Design Interactions
Royal College of Art, London, UK
2013–2017
Graduating 2018
MA (RCA) Design Interactions
Royal College of Art, London, UK
2007–2009
Visiting Student
Graduate School of Arts/Sciences & Graduate School of Design
Harvard University, Cambridge, USA
2005–2006
MA (Cantab) Architecture, First Class
First in graduating year
Nomination, RIBA President's Medals Awards
University of Cambridge, UK
2001–2004
ADVISORY ROLES
Advisory Committee
Broken Nature: XXII Triennale Milano 2019
Milan, Italy
2018-19
Editorial Board
Journal of Design and Science
MIT Press/MIT Media Lab, Cambridge, USA
2017-
Leonardo Group
Science Gallery London, UK
2016-
MIT Press European Academic Advisory Council
London, UK
2016-
Advisor
Make Your Own Masters
London, UK
2018
Curatorial Advisor
The Future Starts Here
Victoria & Albert Museum, London, UK
2016-17

RESIDENCIES, FELLOWSHIPS, COMMISSIONS, PROJECTS
Commission
Nature, Cooper Hewitt Triennal
New York, USA
2019
Residency
Somerset House Studios
London, UK
2018-
Guest Co-editor
Journal of Design and Science
MIT Press/MIT Media Lab, Cambridge, USA
2018-19
Commission
Engineering Life
University of Edinburgh, UK
2017
Commission
Dezeen and MINI Frontiers
London, UK
2014
Commission
SynbiCITE, Imperial College London, UK
2014
Programme Curator
V&A Late: Synthetic Aesthetics
Victoria & Albert Museum, London, UK
2014
Lead Curator
Grow Your Own... Life After Nature
Science Gallery, Dublin, Ireland
2013-2014
Commission
Science Gallery, Dublin, Ireland
2013
Commission
EDF Foundation, Paris, France
2013
Design Fellow
Synthetic Aesthetics
Stanford University, USA & University of Edinburgh, UK
2010–2013
EPSRC Knowledge Transfer Award
University of Southampton, UK
2011
Visiting Fellow
ESRC Genomics Forum
University of Edinburgh, UK
February 2010
Workshop Curator & Co-leader
Synthesis
Arts Catalyst, University College London, University of Edinburgh
Wellcome Trust Arts Award, London, UK
2010–2011
Visiting Tutor
ArtScience Bangalore iGEM Team
Srishti College of Art & Design
Bangalore, India
2010
Design Advisor
University of Cambridge iGEM Team
Cambridge, UK
2009 & 2010
Residency
SymbioticA, School of Anatomy and Human Biology
University of Western Australia, Perth, Australia
2009
Co-founder
AlterFutures
London, UK
2009
Co-organiser
The Long Now London
London, UK
2009
Architectural Assistant
Architecture + Urbanism Unit
Greater London Authority, London, UK
2005