2019
Unity simulation, 4 or 12 screen video installation with sound; 1 hour.
Commissioned by the Vitra Design Museum and the Design Museum. With support from Cité du Design, Saint-Étienne. Installation supported by Distec.
Human dreams of colonisation are not limited to Earth. We see Mars, untouched by Earth life as barren, treacherous, beautiful; another planet to colonise. But humans invariably become exploiters. Instead, could we imagine Mars colonised only by plants, flourishing without us? The Wilding of Mars simulates the growth of a planetary wilderness, seeded with Earth life forms. In exhibition, a wild garden on Mars thrives over millennia, its growth visible over human hours. The pioneers are seeded in stages as conditions become more tolerable. The plants spread north from the South Pole, developing an ecosystem determined by global and local parameters of water, temperature, and nutrients.
Like other "frontiers", Mars is seen by some humans as open for exploitation, whether or not indigenous life exists there. The Wilding of Mars instead prioritises a non-human perspective with plants visibly growing and colonising the terrain, while voyeuristic camera angles heighten the sense of human intrusion.
The aim is not to terraform Mars; here it is simply a repository for the mechanism of life. Plant life takes Mars in a different direction and Mars may take life elsewhere. In the installation, multiple simulations run in parallel; endless possible worlds emerge, challenging the assumption that the outcome of space colonisation must be human benefit. There are other paths life could take. Might leaving the planet to other life forms be the ultimate unnatural act for humans? Can we imagine Mars except as a place for ourselves?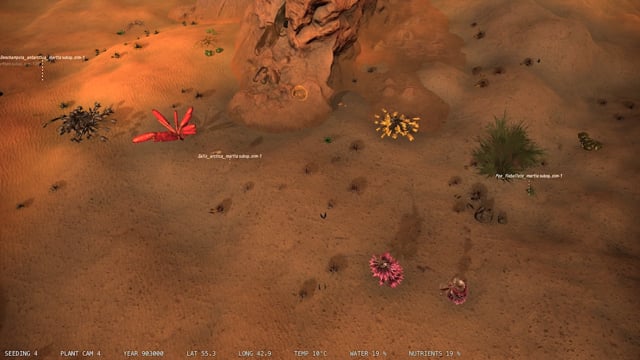 PRODUCTION CREDITS
Additional research and development: Ness Lafoy, Johanna Just, Ioana Man, and Stacie Woolsey. Software development: Tom Betts/Nullpointer and Jelena Viskovic. Simulation design: Jelena Viskovic and Ana Maria Nicolaescu. Sound design: Sam Conran. With thanks: Professor Luis Campos, Baruch S. Blumberg NASA/Library of Congress Chair in Astrobiology 2016-17; Dr Lynn Rothschild, NASA; Professor James Head, Brown University, Lisa White, and the Design Museum. Commissioned by Vitra Design Museum and the Design Museum. With support from Cité du Design, Saint-Étienne.
Installation view, Palazzo delle Esposizioni, 2021. Cappelletti ©️ 2021 Azienda Speciale Palaexpo.
1/9